The MD Anderson Cancer Center will be out at our Pasadena office on June 28 from 9:00 am – 12:00 pm taking blood and platelet donations. An appreciation item, snacks, and refreshments will be provided to all donors! To schedule an appointment, please read the general requirements below, and then click the "Schedule An Appointment" button.
General Requirements:
Be sure to eat a hearty meal and drink plenty of fluids before your donation.
Bring your driver's license or photo ID.
You must be in good health, at least 17 years old, weigh at least 110 lbs, and not be pregnant.
In order to donate platelets, you cannot have Ibuprofen (Motrin, Advil, Nuprin, Aleve, Excedrin) and/or Asprin products within 48 hours of a donation.
After your donation, you can sit to have a snack and drink, and relax for 15 minutes. As long as you are feeling well (not lightheaded or dizzy), you can go out and enjoy the rest of your day. Just remember to drink additional water!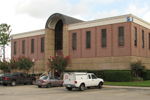 Friday, June 28, 2019
9:00 am – 12:00 pm
Pasadena Branch
5953 Fairmont Pkwy
Pasadena, TX 77505