Thanks for entering The Great Big Back to School Giveaway!
We will contact you via phone or email if you win. Winners will be drawn on August 24, August 31, and September 8, 2020.
---
MORE WAYS TO WIN
Daily Giveaways on Social Media
Every day on social media we will be giving away even more cash and prizes to school employees. Daily giveaways will be held on our Facebook, Twitter, and Instagram pages. Check back on your special day to enter to win!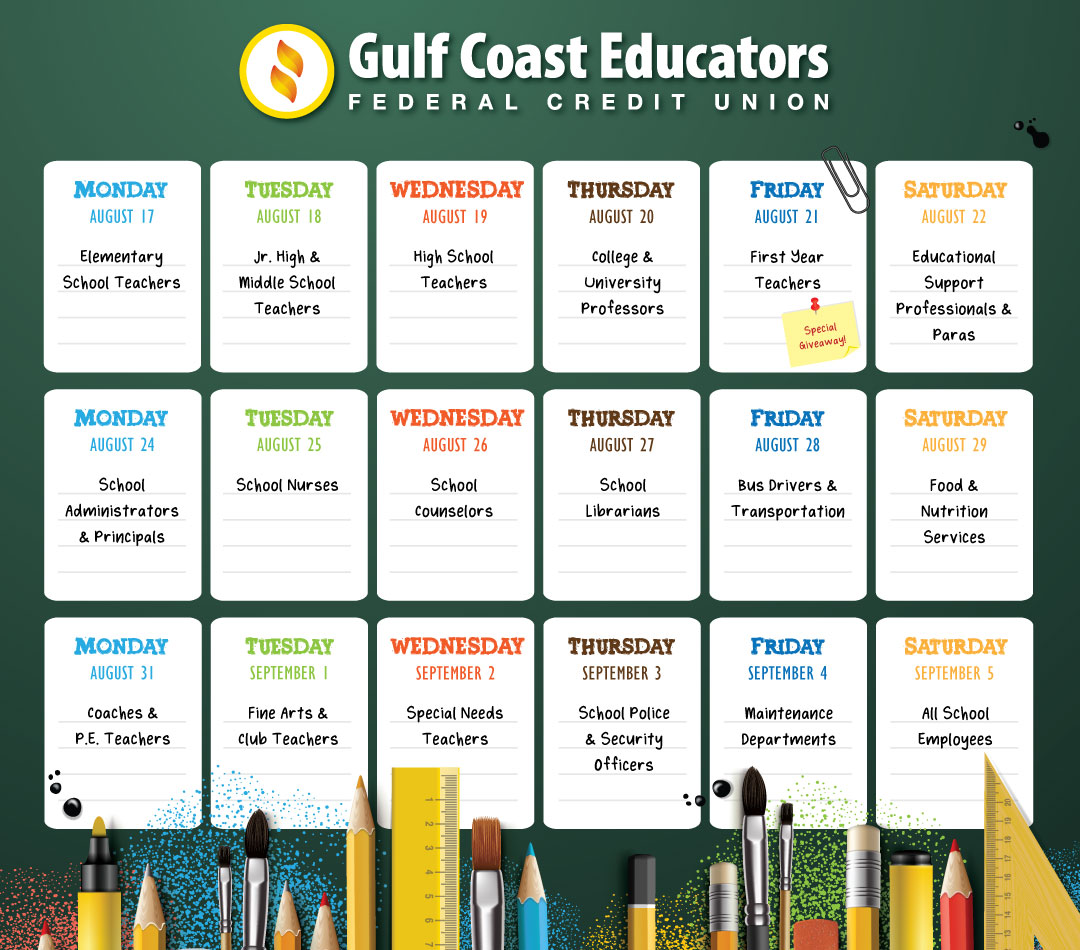 Daily Giveaways:
Mon 8/17: Elementary School Teachers
Tues 8/18: Jr High & Middle School Teachers
Wed 8/19: High School Teachers
Thurs 8/20: College & University Professors
Fri 8/21: First Year Teachers *
Sat 8/22: Educational Support Professionals & Paras
Mon 8/24: School Administrators & Principals
Tues 8/25: School Nurses
Wed 8/26: School Counselors
Thurs 8/27: School Librarians
Fri 8/28: Bus Drivers & Transportation
Sat 8/29: Food & Nutrition Services
Mon 8/31: Coaches & P.E. Teachers
Tues 9/1: Fine Arts & Club Teachers
Wed 9/2: Special Needs Teachers
Thurs 9/3: School Police & Security Officers
Fri 9/4: Maintenance Departments
Sat 9/5: All School Employees
---
LEARN MORE ABOUT GULF COAST EDUCATORS
About Gulf Coast Educators
How to Become a Member
Locations & Hours
---

Rules & Qualifications:
To enter to win the Great Big Back to School Giveaway, you must fill out the online form shown above between August 17 – September 5, 2020. You must be an employee at a school district, accredited private school, college, or university in the state of Texas to win. You may only enter the drawing once. Winners will be drawn on August 24, August 31, and September 8, 2020. GCEFCU will contact you via email or phone if you won. By entering the drawing, you agree that GCEFCU can display your name in publications or online on our website if you win. By entering this giveaway, you may receive marketing emails from GCEFCU.