THE GREAT BIG BACK TO SCHOOL GIVEAWAY
Fall is usually an exciting time when teachers are busy getting their classroom set up and excited to meet their new students. However, this school year is a little different than most. With all the worry and uncertainty teachers are facing right now, our team at Gulf Coast Educators wanted to do something to show all school employees how much we appreciate you. So we created The Great Big Back to School Giveaway, were we gave away $20,000 to school employees all over the state of Texas!
More Chances to Win
We are no longer accepting applications for the Great Big Back to School Giveaway, however, we do post weekly giveaways to our social media pages for school employees. Follow us on Facebook, Twitter, and Instagram for more chances to win!
---
CONGRATULATIONS TO OUR WINNERS!
$500 Weekly Winners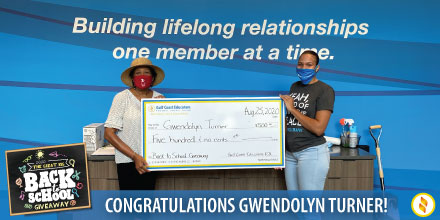 Week 1 Winners:
Nancy R. – Pasadena ISD
Elizabeth J. – Beaumont ISD
Myrna F. – Conroe ISD
Brandy F. – Sheldon ISD
Alejandra C. – Pasadena ISD
Jocunda H. – Alvin ISD
Lacey V. – Pasadena ISD
Katherine M. – Pasadena ISD
Gwendolyn T. – Pasadena ISD
Steven V. – University of Houston – Downtown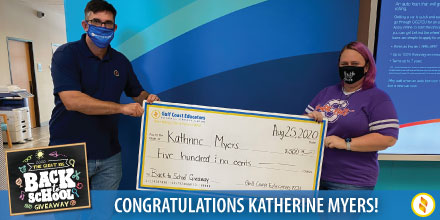 Week 2 Winners:
Jennifer B. – Deer Park ISD
Symone R. – Pearland ISD
Gerardo L. – San Jacinto College
Krista U. – Houston ISD
Taryn B. – Hitchcock ISD
Karla Z. – Dickinson ISD
Melody H. – Brazosport ISD
Dominique W. – Pasadena ISD
Melondy R. – Goose Creek CISD
Jill G. – Dickinson ISD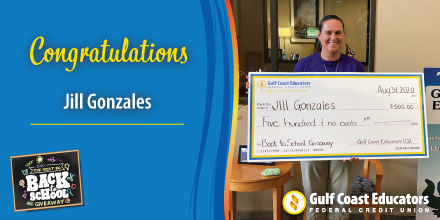 Week 3 Winners:
Frank S. – Pasadena ISD
Katherine R. – Pasadena ISD
Evelyn K. – Pasadena ISD
Jessica J. – Deer Park ISD
Karen C. – Dayton ISD
Michelle M. – Pasadena ISD
Diane M. – Clear Creek ISD
Katherine M. – Dickinson ISD
Julie T. – Aldine ISD
Donna S. – Alvin ISD
Daily Social Media Winners
Mon 8/17: Elementary School Teachers – Idalia M., Stephanie G., Kari S.
Tues 8/18: Jr High & Middle School Teachers – Becky R., Mia M., Angela C.
Wed 8/19: High School Teachers – Justin G., Kelli K., Jack G.
Thurs 8/20: College & University Professors – Susan F., Carrie C., Marcie S.
Fri 8/21: First Year Teachers – Anne B., Khaniya R., Araceli F.
Sat 8/22: Educational Support Professionals & Paras – Hope P., Yanira D., Brianna S.
Mon 8/24: School Administrators & Principals – Kris W., Tracey G., Cheryl B.
Tues 8/25: School Nurses – Kristi C., Kirstin L., Kelly H.
Wed 8/26: School Counselors – Ilsa G., Natasha S., Delena C.
Thurs 8/27: School Librarians – Cassandra M., Cassie M., Alice B.
Fri 8/28: Bus Drivers & Transportation – Gabriela G., Escanda T., Phyllis A.
Sat 8/29: Food & Nutrition Services – Beatriz A., Candace S., Nicole S.
Mon 8/31: Coaches & P.E. Teachers – Jamie H., Candace J., Ursula P.
Tues 9/1: Fine Arts & Club Teachers – Hannah S., Melanie S.
Wed 9/2: Special Needs Teachers – Kristina S., LeeAnn F., Kimberly F.
Thurs 9/3: School Police & Security Officers – Stewart R., J. Kelsey, Matt N.
Fri 9/4: Maintenance Departments – Margarita P., Nancy O., Thomas D.
Sat 9/5: All School Employees – Rene F., Veronica V., Dawn L., Mrs. McCoy, Michelle S.
---
LEARN MORE ABOUT GULF COAST EDUCATORS
About Gulf Coast Educators
How to Become a Member
Locations & Hours
---
The Great Big Back to School Giveaway Rules & Qualifications:
To enter to win the Great Big Back to School Giveaway, you must fill out the online form shown above between August 17 – September 5, 2020. You must be an employee at a school district, accredited private school, college, or university in the state of Texas to win. You may only enter The Great Big Back to School Giveaway drawing once. Winners will be drawn on August 24, August 31, and September 8, 2020. GCEFCU will contact you via email or phone if you won. By entering the drawing, you agree that GCEFCU can display your name in publications or online on our website if you win. By entering The Great Big Back to School Giveaway, you may receive marketing emails from GCEFCU.