The Easy Way to Spend & Save


Here's how it works: Every time you make a purchase using your Gulf Coast Educators debit card, your transaction amount will be rounded up to the next dollar, and the difference will be put into your new Dollar Up Savings account. That savings grows without any effort on your part at all, and at 2.99% APY*! Then at the end of the quarter, we'll deposit the money into your primary savings to spend or save however you'd like. Think of it as your virtual change jar!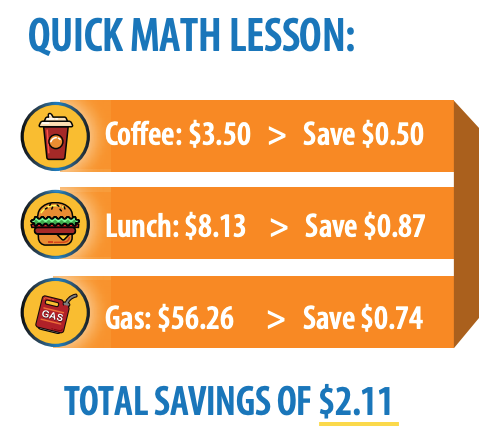 Example: If you spend $3.50 on coffee, $8.13 on lunch, and $56.26 on gas during one day, at the end of the day $2.11 will be transferred from your checking account to your dollar up account.
If you spent that same amount every day, you could grow your savings to more than $60 in one month, and almost $200 in one quarter! Grow your pennies into dollars, and then into hundreds of dollars. All while earning 2.99% APY* on your savings.
Get started today and open your Dollar Up Savings account by filling out the form below.
---
Disclosures
*APY = Annual Percentage Yield. APY is accurate as of 04/01/20.
Minimum balance of $5 on Dollar Up Savings account to begin earning 2.99% APY. No outside deposits may be made to the Dollar Up Savings account. Total sum of remaining cents for each debit card transaction will be automatically deposited into Dollar Up Savings account at the end of each day. Funds must be available in the checking account to complete transfer. Funds will be deposited into the member's primary savings account the first day of every quarter.