Enjoy an easier way to pay. Every day.
All GCEFCU Credit Cards come with the following benefits:
✔

No Annual Fee or application fee

✔

No Balance Transfer Fees on any previous credit card debt you'd like to transfer to your new GCEFCU credit card

✔

No Cash Advance Fees on cash advances done at any GCEFCU location

✔

Apply Online and we'll mail your card straight to you, or you can pick it up from any GCEFCU location
Choose the card that best fits your needs:
✔

Rates as low as 8.99% APR*

✔

Rates as low as 9.99% APR*

✔

Rates as low as 6.99% APR*

✔

Earn 1 point for every $1 spent

✔

Earn 1 point for every $1 spent

✔

Click here to learn more
---
Learn more about our Credit Cards
Features
Classic or Rewards VISA Credit Cards
We have three Visa Credit Cards – Classic, Rewards, and Texas Educators Rewards. All cards feature the following:
No annual fee
Low rates to save our members money
No fee on cash advances done in GCEFCU branches
No fee balance transfers
EMV chips for added security
Printed in branch like our debit cards to save you time
Will show up in online banking with no need to log into a different system
Transfer funds online to the credit card account to make payments
Compatible with Apple, Samsung, and Android Pay for added convenience
On rewards card, earn 1 point for every $1 in purchases. Redeem for travel, merchandise or gift cards.
Balance Transfer
To complete a balance transfer follow these simple steps:
Obtain your balance transfer amount from your credit card statement or by logging into your credit card's online system.
Use the credit union's digital banking system to transfer the amount needed for your balance transfer from your Gulf Coast Educators Visa Credit Card to your savings or checking account. Alternately, you can call us and our team members can complete the transfer on your behalf.
Send payment to the credit card in the manner you normally do.
Rewards
Earn Points For Your Purchases
If you have a GCEFCU VISA Rewards or Texas Educators Rewards Credit Card, you can sign up for UChoose Rewards and start redeeming points for every purchase made. With UChoose Rewards, you earn 1 point for every dollar charged in purchases to your card. Those points can be redeemed for travel, merchandise gift cards, or even cold hard cash.
UChoose Rewards
You earn points for all your purchases – not just at participating retailers! UChoose Rewards is only available on the credit union's Visa Rewards and Texas Educators Rewards Credit Cards.
Download your UChoose Rewards app
Download the UChoose Rewards app at the app store for iPhone®, iPad®, iTouch or Android™ device today and enjoy mobile access on-the-go:
Scan a UPC code to see if a product is in the redemption catalog
Redeem points
Check your point balance
Participating retailers subject to change.
Frequently Asked Questions
What is UChoose Rewards?
How do I get started?
How do I earn points?
How can I track my points?
What can I get when I redeem my points?
Design Your Card
Custom Designed Credit Cards
Customize your VISA credit card with almost any digital image, like a picture of your great vacation, to show off to your family and friends. Best of all, it works just like normal Gulf Coast Educators VISA credit cards, so you can use it at your favorite restaurant, department store, grocery store, gas station or any other place that accepts VISA®. Design your own card for only $7.95.
If you have a regular Visa Credit Card click here or if you have a Visa Rewards Card, click here.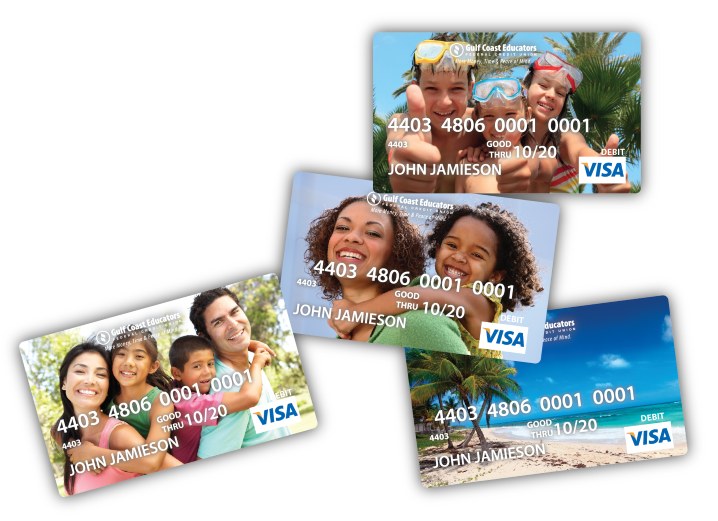 Lost/Stolen Cards
Lost or Stolen Credit Cards
For lost or stolen credit union Visa Credit Cards, you can contact the credit union weekdays during business hours, please call us at 281.487.9333. After business hours and on weekends call 800.472.3272.
We have an outsourced Visa Fraud system that does make calls to help our members prevent fraud on their accounts. The legitimate calls will never ask for sensitive information. The numbers from which the calls will come is 877.253.8964. You can call the number listed with confidence that it is legitimate. Unless the calls come from this number or the credit union directly, members should consider the call fraudulent.
Additional Information for those with lost or stolen wallets:
Cancel your credit cards immediately. Keep your credit card account numbers and their telephone numbers in a safe place so you will have all of your credit card information handy. Having to find all of your credit card telephone numbers and account numbers at this point would only add additional stress to your already stressful situation.
Call the 3 national credit bureaus and place a fraud alert on your name and social security number. This alert will notify any company checking your credit that your information was stolen and that they have to contact you by phone to authorize new credit. Here are the credit bureau fraud lines. Social security also has a fraud line.
Equifax 1.888.766.0008

Experian 1.888.397.3742
TransUnion 1.800.680.7289
Social Security 1.800.269.0271
Notify your financial institution so they can place a notation on your account. If your checkbook was stolen, you may want to place stop payments on the blank checks that were taken.
File a police report immediately in the jurisdiction where your purse or wallet was stolen. This is the first step toward an investigation if there is one and it lets creditors know that you were diligent in your efforts.
We hope that you are never faced with this situation, but if you are, this information may be beneficial to you. Be sure to record your credit card information. Keep this copy in a safe place, somewhere other than your wallet or purse.
International Travel
Traveling with VISA® Credit Cards
Please complete this form if you plan to use your credit union Visa Credit Card while traveling internationally. We can place a travel exemption on the card so that you may use the card. Questions? Call us at 281-487-9333 during business hours.
Rates & Disclosures
Rates
Click here for current loan rates.
Disclosures
GULF COAST EDUCATORS VISA CREDIT CARD APPLICATION AND SOLICITATION DISCLOSURE
Interest Rates and Interest Charges
Annual Percentage Rate (APR) for Purchases
6.99% to 18.00% based on your creditworthiness.
Annual Percentage Rate (APR) for Balance Transfers
6.99% to 18.00% based on your creditworthiness.
Annual Percentage Rate (APR) for Cash Advances
6.99% to 18.00% based on your creditworthiness.
Credit Card Fees
Annual Fee – None
Balance Transfer – Free
Cash Advance – 1% or $5.00 of the amount of each cash advance, whichever is greater. No fee if done in GCEFCU branch.
Foreign Transaction – 1.00% of each transaction in U.S. dollars.
Late Payment – $25
Over-the-Credit-Limit – $25
Returned Payment Fee – $25

Credit Card Details
How to Avoid Paying Interest on Purchases
Your due date is at least 25 days after the close of each billing cycle. We will not charge you any interest on purchases if you pay your entire balance by the due date each month.
For Credit Card Tips from the Consumer Financial Protection Bureau
To learn more about factors to consider when applying for or using a credit card, visit the website of the Consumer Financial Protection Bureau at http://www.consumerfinance.gov/learnmore.
How We Will Calculate Your Balance
We use a method called "average daily balance (including new purchases)."
Effective Date: The information about the costs of the card described in this disclosure is accurate as of April 1, 2021.  This information may have changed after that date. To find out what may have changed, contact Gulf Coast Educators Federal Credit Union.
To see full credit card disclosures, click here.
---