Classroom Mini Grants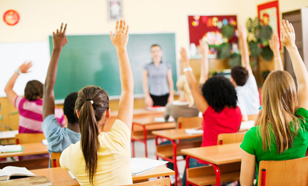 Gulf Coast Educators FCU Awards $2500 in Grants to Local Teachers
Back to school time can be expensive for teachers. According to a study by SheerID, teachers spend almost $500 out of their own pockets for supplies, materials and professional development. The  Gulf Coast Educators management team is well aware of the fact that so many teachers feel the need to buy supplies and materials out of pocket because the majority of the team have family members who are teachers. In response, the credit union offers a classroom mini grant program.
This year the committee reviewed more than 220 applications and awarded 25 one hundred dollar grants to teachers who are members of the credit union. The grant recipients represented schools in area districts such as Houston, Pasadena, Clear Creek, Pearland, Alvin, Deer Park, Hitchcock and Katy ISD.
The following teachers received grants:
| | |
| --- | --- |
| Antrina Coopr | Kipp Charter |
| Katharine Moore | Clear Creek ISD |
| Elizabeth Leimbach | Pasadena ISD |
| Marilee Thomas | Katy ISD |
| Daniel Erdberg | Clear Creek ISD |
| Denise Crouch | Houston ISD |
| Tiffany Deschler | Clear Creek ISD |
| Sandy Salazar | Deer Park ISD |
| Kristin Wheeler | Deer Park ISD |
| Gerri Watkins | Pasadena ISD |
| Kandi Facison | Pasadena ISD |
| Latitia Maldonado | Clear Creek ISD |
| Rosalind Hubbard | Pasadena ISD |
| Valerie Sullins | Clear Creek ISD |
| Andrea Escobedo | Clear Creek ISD |
| Anna Gremmel | Pasadena ISD |
| Mary Stilwell | Alvin ISD |
| Kassandra Harris | Clear Creek ISD |
| Enri Timmons | Pasadena ISD |
| Laura Shamrock | Katy ISD |
| Raquel Olivares Garza | Pasadena ISD |
| Cheryl Fox | Pasadena ISD |
| Tracy Washington | Pearland ISD |
| Sherri Hanisco | Hitchcock ISD |
Abraham Lincoln once said, "the best way to predict the future is to create it," and it was obvious from our 2016 submissions that the future is very bright.
The committee comprised of four credit union team members observed one trend during the review process. Team member Brock Reynolds whose wife is a counselor in Alvin ISD said he noticed "a very deliberate effort to unlock the full potential of each and every student.  Many of the awards went to educators who demonstrated a desire to improve their classroom environment, allowing students to benefit from interactive technology in a casual setting more conducive to learning."
Study source: http://www.sheerid.com/2015-teacher-spending-survey/
---
Get the school year started right with a Classroom Mini Grant!
Back to school time can be expensive for teachers. We understand that and want to help. We will be awarding up to twenty-five (25) $100 Classroom Mini Grants to help deserving teacher members. If you have great ideas that would help engage your students, fill out the form below describing how you intend to use the funds should you be awarded a Classroom Mini Grant. The deadline for submitting a grant application is August 24, 2016.
The Rules:
1. Must be a member in good standing of the credit union to receive a grant.
2. Grant requests should be for specific items needed to engage students or facilitate classroom learning
3. Recipients will be notified and funds deposited into grant recipient's Gulf Coast Educators primary savings accounts by August 26, 2016. If you are selected for a grant, the credit union reserves the right to use your name in announcements to the media and membership about the grants.