2020 Principals' Month Winners
We are excited to announce the 2020 recipients of our Principals' Month Award. We received a total of 1014 nominations for principals all over the greater Houston area, it was a tough process to narrow down the entries and select the top four. Congratulations to the winners and thank you to principals everywhere for making a difference in your school, district, and community.
Michael Curl – Kingwood Middle School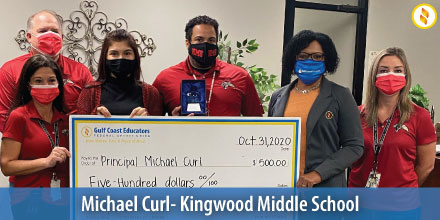 Mr. Michael Curl became Principal at Kingwood Middle School in Humble ISD just last year and since taking on his new role, he has transformed his campus with such positivity. He is described a someone that is supportive and understanding. He is always lending a helping hand and is willing to do whatever it takes to see his students and campus succeed. He is an inspirational and motivational leader that is always encouraging his faculty and staff to be the best educators they can be.
Within the first two years of his principalship, he led his campus through some challenging times, such as Tropical Storm Imelda and now the pandemic but nonetheless, he has remained an exceptional leader. During the storm, he opened his campus up to those students and teachers whose homes were greatly affected and needed a place to stay. He ensured his staff and students safety and security, offering them whatever resources they needed to get through those difficult days.
Additionally, he has offered support and guidance to his teachers during the pandemic as they have had to adjust to their new norm. Many of them were apprehensive of the times ahead, but he has led them with grace, compassion, and understanding. He even held weekly zoom meetings during quarantine to encourage his staff to remain positive and has found ways to uplift both his faculty and students during these unpredictable times.
He mentors and enables his teachers to reach new potentials. This is apparent in the positive school culture and overall morale on campus. As one of his teachers said, "Mr. Curl is a true leader; he leads by example. He is caring, sympathetic, and allows every teacher or student to be themselves and offer the best they can give."
Geoff McCracken- Dayton High School

Mr. Geoff McCracken is the principal at Dayton High School within Dayton ISD. Many of his employees would describe him as the backbone to his campus, and a leader that is supportive and motivating. He is not just someone they see at meetings; he is a principal that is always walking around campus speaking to his staff and students.
Mr. McCracken is known to be the type of leader to encourage his staff to be the best educators they can be so that students are able to reach their fullest potentials. He listens to the concerns of his teachers and staff and is always willing to find solutions and make decisions that will benefit everyone.
During these times of distress and uncertainty, he remained a fearless leader that motivated and inspired his staff, creating a calming work culture for everyone. During the quarantine, he granted solace to his staff by keeping everyone informed and connected with thought-provoking Google Meets meetings. His leadership qualities are exemplified in the way he connects with everyone on his campus. You can catch him always willing to lend a helping hand, assisting teachers with classes, communicating with parents, or mentoring students.
Mr. McCracken is a principal that has created a welcoming environment for not only his staff but also the students on campus. He is a compassionate and kind leader that works hard to form good relationships with the faculty, staff, and students at DHS. Alike their school's motto "Achieving Excellence Together", he demonstrates this by celebrating everyone's achievements regardless of how big or small they may be. This aids in keeping the morale of their school high and fosters a kind, collaborative, respectful, honest, and hard-working environment.
Diana Del Pilar- Avalos P-TECH School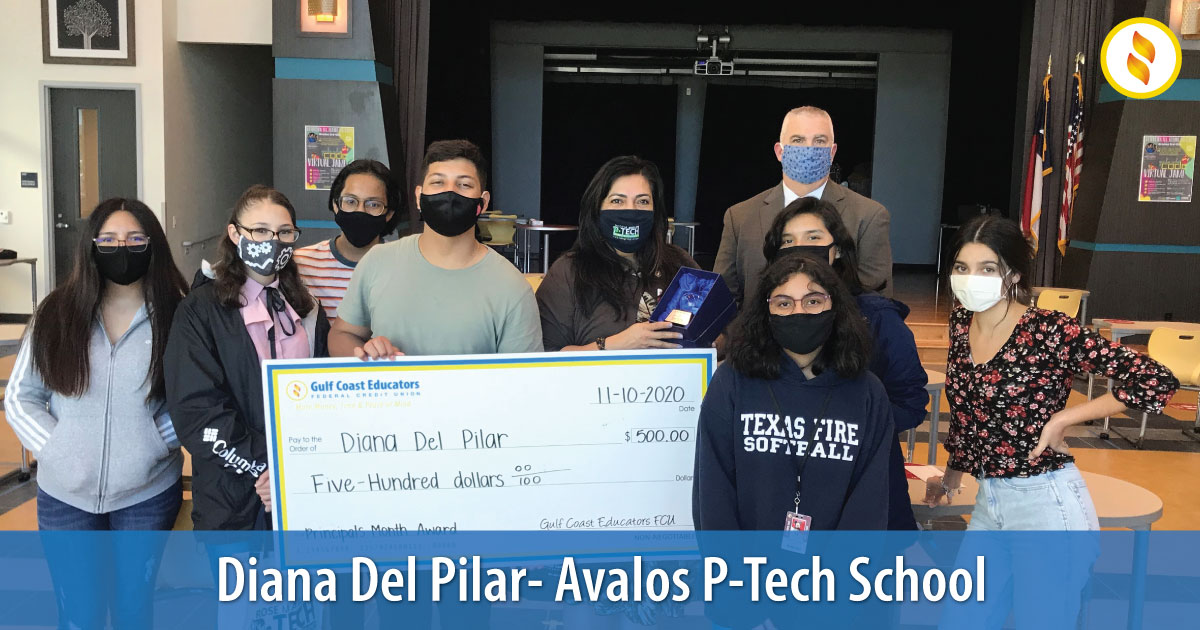 Diana Del Pilar has been the principal of Avalos P-TECH School in Aldine ISD since 2019. As an Aldine ISD graduate from MacArthur High School, she is a leader whose primary focus is to work alongside her teachers to create an outstanding learning environment for her students to become successful in all they do. It is apparent that being accessible to her staff and students is fundamental in such a way that she moved her office location to a centralized area where both students and staff can easily get to her. On any given day you can catch her on the main halls of campus or in a teacher's room guiding and coaching them to be the best educator they can be.
She is a principal that is always advocating for her students and thinking of new ways to create better learning opportunities for them. She is not afraid to draw up new ideas and bring them forward to the district when she feels they will make a significant impact on her campus. When teachers were forced to virtually teach, she researched what methods work best from scholarly reviews.
Her efforts are not only noticed by the faculty and staff on her campus, but also by the parents of students whom she has guided and supported. Parents are appreciative of her efforts when it comes to seeking out intervention options for their kids. They have felt like they are heard, and it is apparent because their students are finally enjoying school and overall learning.
Mrs. Del Pilar was the founder of a Zero Period intervention class for students that were high needs and struggled with reading. She and another teacher co-taught a reading class for the benefit of these students, and she did this all while still running her campus. Her unyielding efforts in providing this type of support for her students allowed them to achieve the highest Lexile growth in the district. Through her persistent efforts to provide valuable resources for her campus, she has also been able to achieve massive results from the students in addition to increasing their overall attendance for historically at-risk, low attending students.
Courtney Dickey- Meadows Elementary School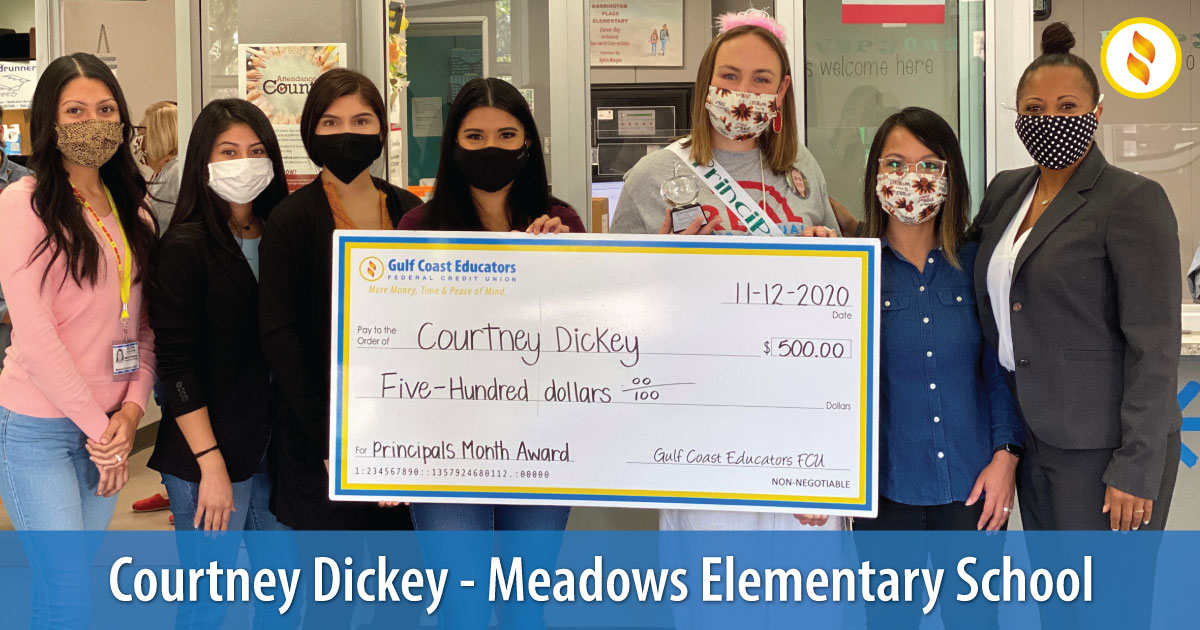 Courtney Dickey has been principal at Meadows Elementary in Fort Bend ISD for the last three years. In her time as principal she has proven to lead her campus with compassion, fearlessness and dedication.
Within her first months of taking on her new role, she was faced with having to transition her faculty and staff to a new campus as their current school was being torn down to be reconstructed. While some may have viewed this as a challenge, Mrs. Dickey did it with such diligence and made sure that her staff had all the resources they needed while moving into their temporary campus.
She has also demonstrated her servant leadership qualities as she has guided her campus through the pandemic, all while making time for her family, studying for her Ph.D., and overseeing the construction of their new school. She is continuously thinking of ways to make her teachers feel valued and appreciated, now more than ever. Additionally, she is always finding new ways to strengthen her district principal group and is always willing to share new ideas and resources with her fellow colleagues.
Mrs. Dickey is not only inclusive of her faculty and staff, but also of the students on her campus. This school year one of her goals was to build a sense of community and strengthen the culture and climate of her campus. She works incessantly to ensure her students receive the best education, in addition to developing her own understanding of the diverse needs of her students. She wants each of her students to exemplify her district's mission- to pursue futures beyond what they can imagine.