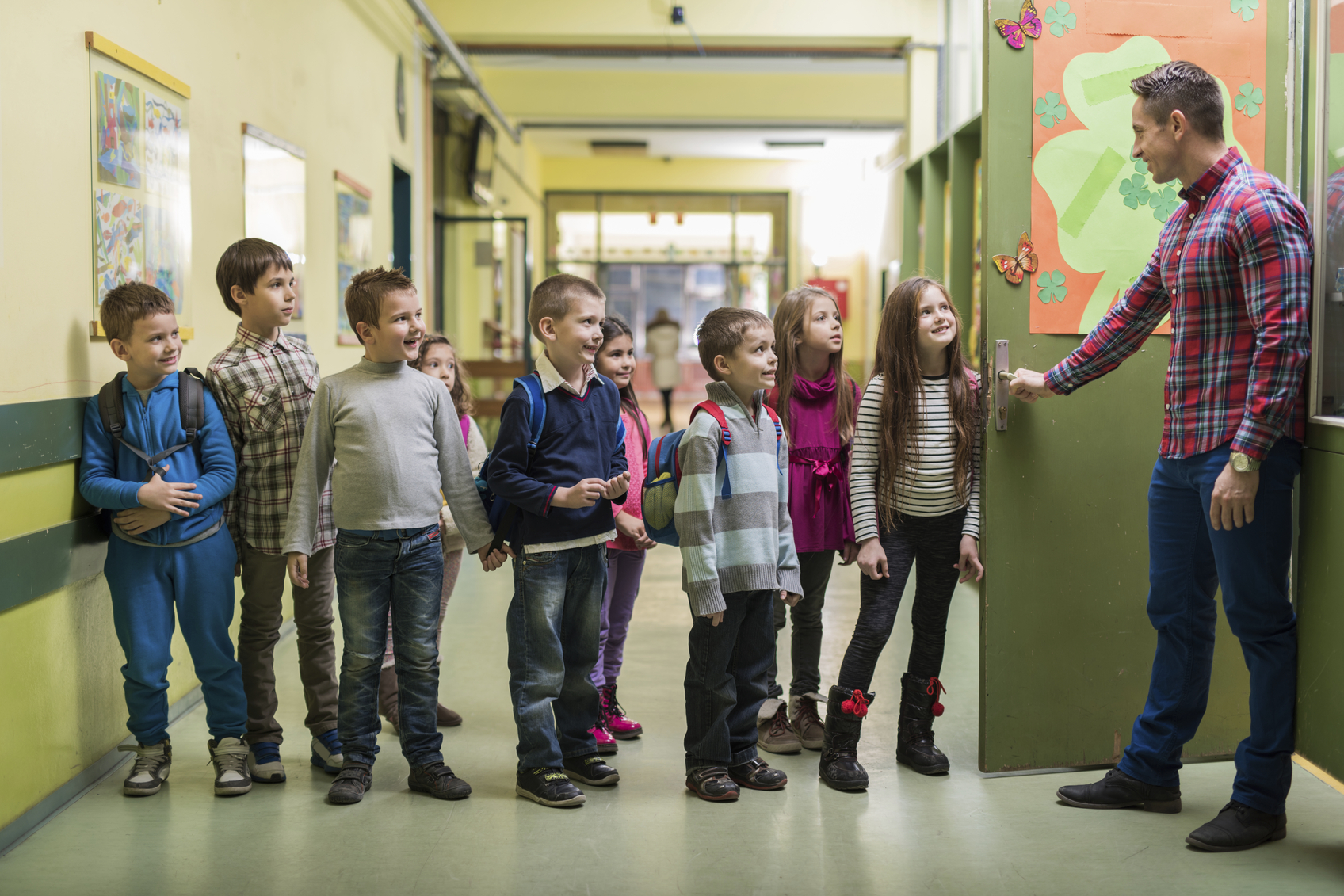 National School Principals' Month is coming up! They do so much for us, so we would like to do a little something for them.
This year we are going to honor FOUR area principals in our field of membership who make a difference in their school, district, and community. Nominate your principal to be one of our four Principals for National Principals' Month. Each winner will receive $500 for their school and be highlighted on our Facebook page. The deadline to nominate your principal is September 27, 2020.



We are no longer accepting nominations for Principals' Month. Stay tuned to find out who our 2020 winners are!
---
2019 Principals' Month Winners
We are excited to announce the 2019 recipients for Principals' Month. With 816 nominations for principals all over the greater Houston area, it was an extremely difficult process to narrow down our winners. We will be announcing them over the course of the next month so that each principal may be surprised.
Robert Laird – Channelview High School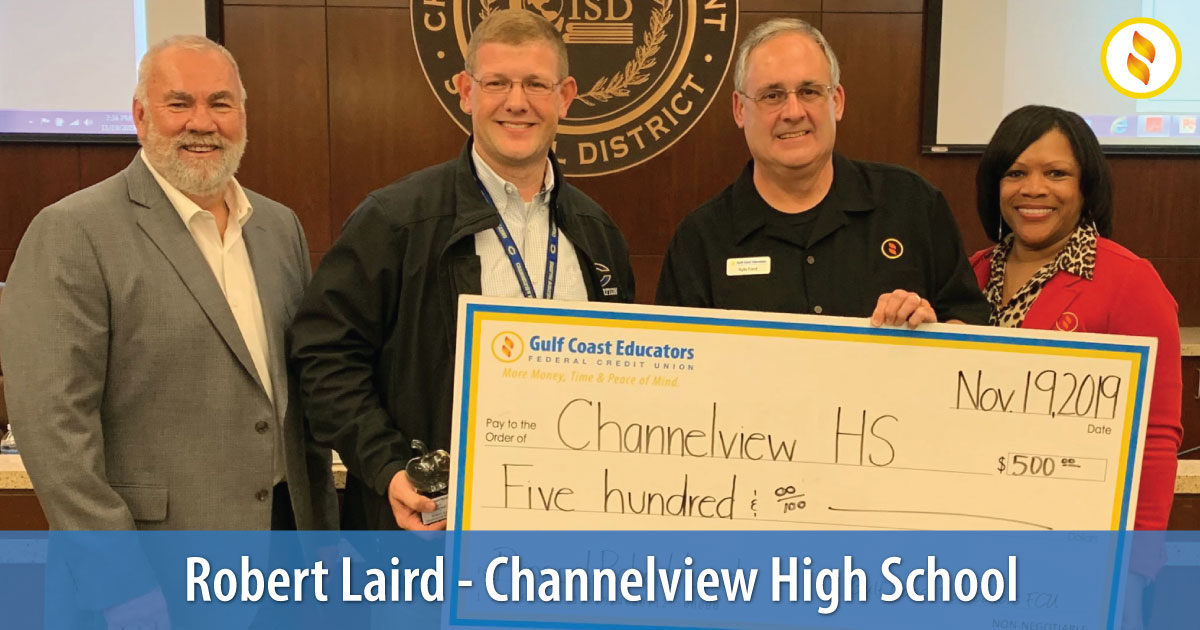 Robert Laird has been the principal at Channelview High School in Channelview ISD for the last 2 and a half years. His staff describe him as a "hometown" Channelview guy, because he was born and raised here. He attended Kindergarten through 12th grade in Channelview ISD, and was a 1995 Channelview High School graduate.
His first year of being principal was met with many great challenges, all of which were met with professionalism and sympathy. Mr. Laird led his campus through Hurricane Harvey and opened the school as a shelter for those in need. Not much later, a tragic bus accident occurred that resulted in the death of the driver and injured many CVISD band students and faculty.
Mr. Laird is a hands-on type of principal and is out and about the school campus instead of just behind his desk. He is fair and heavily involved in the student body, he takes his job seriously and you can see his passion and love for the job title he holds. Mr. Laird has helped to build many programs and initiatives with his enthusiastic support.
One of his teachers said it best – "Mr. Laird is doing a great job leading by example. He rolls his sleeves up and gets side by side with us to make sure the students are learning and the campus is safe. We truly appreciate him."
Kellie Clay, Palmer Elementary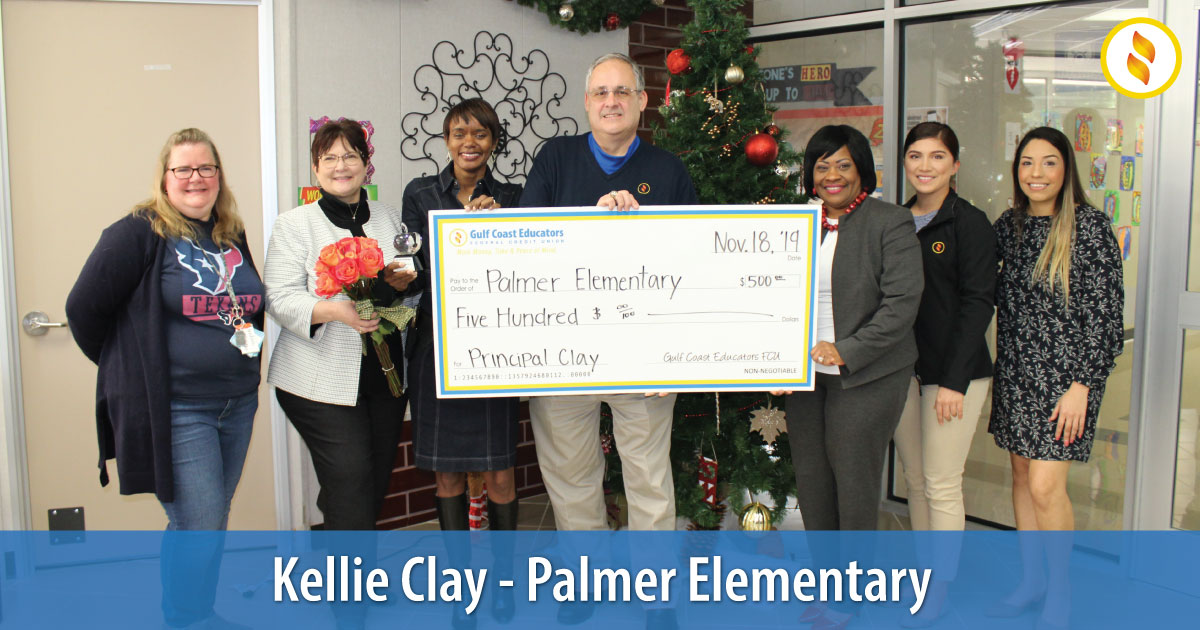 Mrs. Kellie Clay has been the principal at Palmer Elementary in Fort Bend ISD for the last 5 years. If you stop by her campus, you might spot her in the classroom, on the playground with special needs students, or spreading love to all her Palmer Bears.
Mrs. Clay is an advocate for all students to feel safe and loved when they come to school; and to be challenged academically until they reach their fullest potential. You will often hear her say, "do what is best for the child." This is a mantra she lives by and encourages her teachers to adopt as well.
Principal Clay is a staunch advocate for the mental health of both her students and faculty. She leads teachers to be the best educators they can be with grit and grace, but also encourages them to take care of themselves and their families.
Since becoming principal at Palmer Elementary, Mrs. Clay was determined to provide the best cutting-edge technology and opportunities for her students. She worked with the campus PTO to set a goal to purchase iPads for all students. In addition, Mrs. Clay has incorporated new events that get the community more involved, which in turn, has helped show students that their school and community are both rooting for them to succeed.
Carol Williams, La Porte Elementary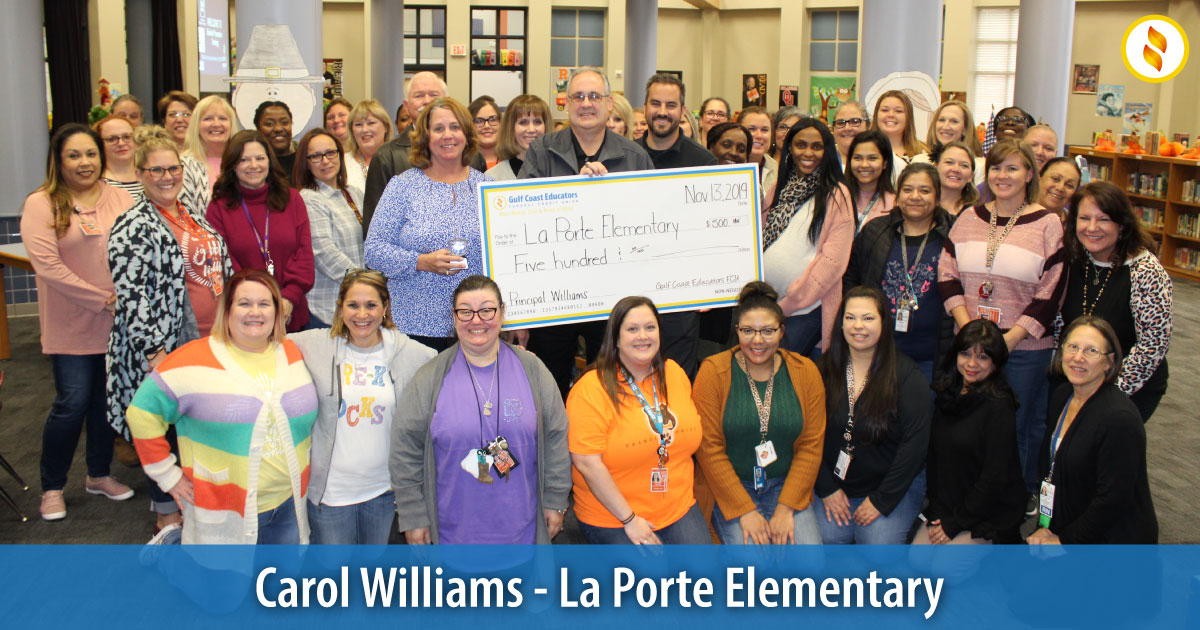 Carol Williams is the principal at La Porte Elementary in La Porte ISD. She was a graduate of La Porte High School, and has worked for the district her entire career as a coach, teacher, assistant principal, and principal. Mrs. Williams has led La Porte Elementary for the last five years and will be retiring at the end of this school year.
Carol Williams is known as a principal that knows each student by name and knows their story. She greets them outside the school each morning and works in the lunch room every day. She even takes the time to check on specific students that she knows have daily challenges based on their home life. La Porte Elementary students are happier, more successful, and they know that they are loved and their voices are heard.
Mrs. Williams is also very well respected amongst her staff. She trusts teachers to do their jobs well and gives them the tools they need to do so. By putting the right teachers in the right spots, with the resources, training, and materials needed to do their jobs effectively, she empowers them to be their own leaders.
La Porte Elementary was a Title 1, lowest performing LPISD school five years ago. Under Mrs. William's leadership, her campus has earned an A report card from the state of Texas for the last two years in a row, and earned a 5 star distinction this year.
Dr. Crystal Watson, Nimitz High School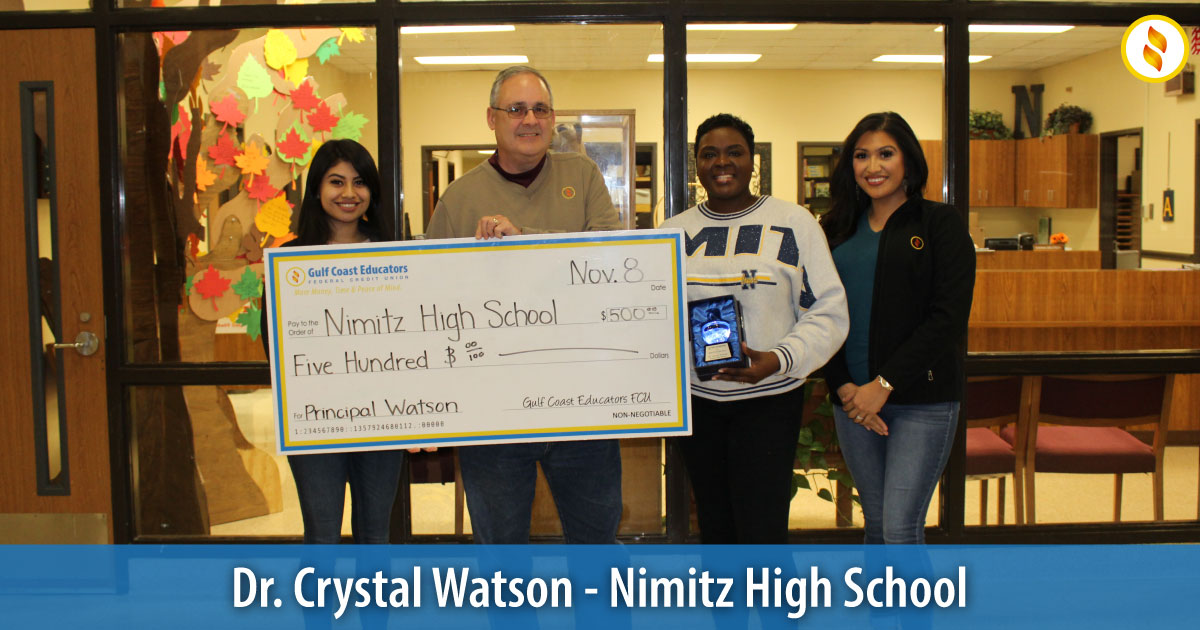 Dr. Crystal Watson, or "Doc," as she is known around campus, is the principal at Nimitz High School in Aldine ISD. Dr. Watson received 28 nominations, the most out of any principal nominated this year.
Dr. Watson started at Nimitz High School five years ago, which at the time was a D-rated school and deemed academically unacceptable by the state. Under her leadership, Principal Watson has transformed her campus into a B-rated school, that is continually improving.
In her five years of leadership, Dr. Watson has made tremendous, significant, and substantial changes to the culture, climate, and overall dynamics of Nimitz High School. For students, she has implemented senior balloon release ceremonies with individual visions and mission statements inside for each student, monthly and quarterly recognition awards, honor roll, and many more. For her staff, Dr. Watson created a large tactical master scheduling method where all teachers with the same core content areas are off at the same period each and every day with common professional learning communities. Through her many innovative changes, Dr. Watson has established a culture that is conducive for learning for her students and teachers.
One of her teachers said it best – "She is the sole reason that I am still teaching. I could have retired, but I chose to stay and work as long as my health allows, and she is the principal of Nimitz High School. You could not work for or have a better person as your BOSS, LEADER, and FRIEND."