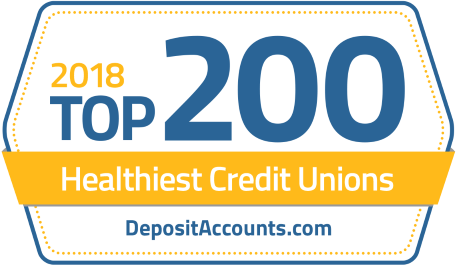 DepositAccounts.com, a subsidiary of LendingTree, has released its list of the 2018 Top 200 Healthiest Credit Unions in America.
Gulf Coast Educators is number 8 on the list and the credit union's management team and board are very proud to be so highly ranked out of the 5,743 federally insured credit unions in the US.
DepositAccounts.com evaluates the financial health of over 11,000 banks and credit unions in the United States once per quarter. To determine bank ranking and recognition, DepositAccounts.com grades each institution on a number of factors, including capitalization, deposit growth, and loan-to-reserve ratios.
"We believe it is important to give consumers a way to evaluate the financial health of their institutions," said Ken Tumin, founder of DepositAccounts.com. "Our list empowers consumers to make informed decisions when selecting a financial institution."
For a complete listing of the 2018 Top 200 Healthiest Credit Unions in America, visit https://www.depositaccounts.com/banks/health.aspx