Welcome Back to School!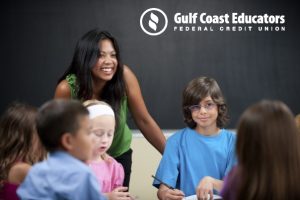 Summer is almost over, but that doesn't mean the fun has to end. At Gulf Coast Educators FCU, employees of school districts get the special treatment all school year long. We are a credit union dedicated to serving educators and their families in the greater Houston area. Our products and services provide our member-owners with more money, time, and peace of mind. To learn more about becoming a member-owner, click here.
Special Treatment Just For You
At our credit union, everything we do is centered around YOU, people who dedicate their lives to teaching our children. Every decision we make is made with you in mind, and what we can do to make your life a little easier.
Does your current bank have loans catered specifically for teachers? Well we do. That is what separates us from the rest; we are a financial institution created by educators, for educators. You can't get any better special treatment than that.
Teacher Loans Just For You
Teachers deal with enough stress while getting ready to go back to school, money shouldn't have to be one of them. To help ease that burden, we have four personal loans just for teachers that start out at 1.99% Annual Percentage Rate.
Classroom Supplies Loan – A one-year loan up to $1,000 that we hope will help teachers afford the task of creating a teaching environment that meets their exceptional standards.
Relocation Loan – We created this loan to help make housing and relocation expenses more affordable.
Professional Development Loan – We want to assist in your efforts to reach your educational goals and offer this loan product to help pay for tuition, books, and other expenses associated with continued education.
First Year Teacher Loan – This is a loan to help brand new, first year teachers bridge the gap between accepting a job with a district and getting their first paycheck.

TERMS AND CONDITIONS: *APR = Annual Percentage Rate. Certain credit qualifications may apply. Member must present valid work contract, paycheck stub, or other proof of school district employment at time of loan origination. Payment Example: 12 monthly payments of $87.87 per $1,000 borrowed at 9.99%.
Teacher Mortgages Just For You
Teacher Mortgages – Teachers do so much for their students. We want to do something special for teachers.
If you are a teacher looking to buy a home, you are in luck. With a Gulf Coast Educators FCU Teacher Mortgage, you can finance your new home up to 100%, with no down payment or PMI required. To see if this is the right fit for you, check out the requirements.

Want The Special Treatment For Your School?
If your school is interested in learning more about all the great things GCEFCU has to offer educators, use the form below. We would be happy to provide you and your school with all of the benefits we offer and possibly arrange a free staff appreciation event.