In addition to everyday purchases, you can use the VISA® Debit Card with your Personal Identification Number (PIN) as an ATM card at over 1,000,000 ATMs world wide, including over 55,000 fee free ATMs on the Allpoint Network to withdraw money from savings or checking, transfer between accounts or check account balances.
VISA® Debit Cards are free to qualifying members and they can be instantly issued from any location. Please contact your credit union's membership department for more details on the VISA® Debit Card.
Allpoint ATM Locator
Find an Allpoint "No-Surcharge" ATM near you.
Using the Allpoint search feature will redirect you to the Allpoint website. Gulf Coast Educators Federal Credit Union is not responsible for the content of the alternate website.
Dollar Up Savings
The Easy Way to Spend & Save
Here's how it works:

Every time you make a purchase using your Gulf Coast Educators debit card, we will round up your purchase amount to the next dollar, and put the difference into your new Dollar Up Savings account. That savings grows without any effort on your part at all, and at 5% APY*! Then at the end of the quarter, we'll deposit the money into your primary savings to spend or save however you'd like. Think of it as your virtual change jar!
Quick Math Lesson
Coffee     Spend $3.50     >     Save $0.50
Lunch      Spend $8.13     >     Save $0.87
Gas         Spend $56.26   >     Save $0.74
That's a total saved of         $2.11
If you spent that same amount every day, you could grow your savings to more than $60 in one month, and almost $200 in one quarter! Grow your pennies into dollars, and then into hundreds of dollars. All while earning 5% APY* on your savings.
Get started today and open your Dollar Up Savings account by filling out the form below.
Disclosures
*APY = Annual Percentage Yield. APY is accurate as of 1/1/20.
Minimum balance of $5 on Dollar Up Savings account to begin earning 5% APY. No outside deposits may be made to the Dollar Up Savings account. Total sum of remaining cents for each debit card transaction will be automatically deposited into Dollar Up Savings account at the end of each day. Funds must be available in the checking account to complete transfer. Funds will be deposited into the member's primary savings account the first day of every quarter.
Traveling Internationally
Traveling with VISA® Debit & Credit Cards
Please complete this form if you plan to use your credit union Visa Debit or Credit Card while traveling internationally. We can place a travel exemption on the card so that you may use the card. Questions? Call us at 281-487-9333 from 7 AM to 7 PM CST weekdays.
Custom Cards
Custom VISA® Debit Cards
Customize your VISA® debit card with almost any digital image, like a picture of your great vacation, to show off to your family and friends. Best of all, it works just like a normal Gulf Coast Educators VISA® Debit Card so you can use it at your favorite restaurant, department store, grocery store, gas station or any other place that accepts VISA®. Click here to start customizing your card today.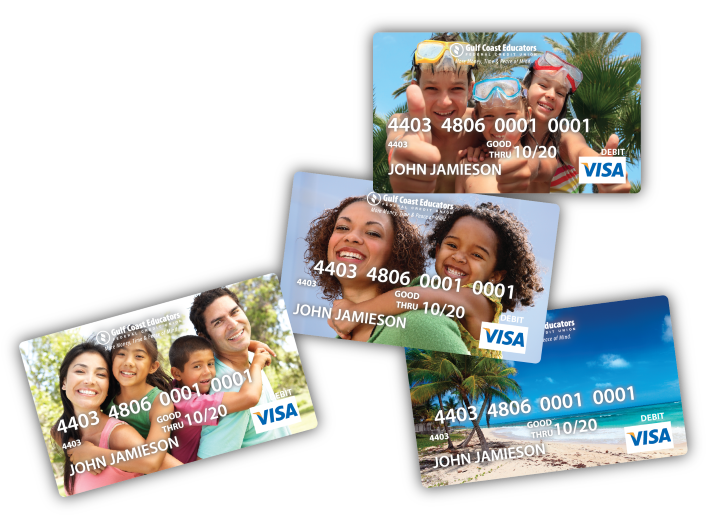 Lost or Stolen
Lost or Stolen Debit Cards
For lost or stolen credit union VISA® debit card call the credit union main number during business hours and after business hours call 800-472-3272.
We do have an outsourced Visa Fraud system that does make calls to help our members prevent fraud on their accounts. The legitimate calls will never ask for sensitive information. The numbers from which the calls will come is 877-253-8964. You can call the number listed with confidence that it is legitimate. Unless the calls come from this number or the credit union directly, members should consider the call fraudulent.

Related Card Services
Apple Pay
Your credit union debit card is eligible for Apple Pay. Click here for more details.
Android Pay
Now, whether you are paying in-store or in-app, you can pay with just a tap on your supported Android® device (KitKat 4.4 and higher).
Samsung Pay
Samsung Pay makes transactions easy. Just swipe up to launch the app, secure with authentication (either your fingerprint or passcode) and hover over the card reader to pay.
Visa Checkout
Visa Checkout protects and simplifies your online shopping experience with a single password, giving you reassurance that only you can use your Visa card online. Your credit union Visa Debit Card is eligible for this program. Learn more or to register your card.

Credit or Debit?
Many of you have VISA® Debit Cards and face this question every time you take your card out to use it. Credit or Debit? Your answer will determine how the funds are taken from your account. If you say credit, you will be asked to sign a receipt and the transaction is typically faster. As soon as the transaction is authorized, a hold for that amount will be placed on your account for 3 days or until the transaction clears your account, whichever comes first. This will cause your available balance to be lower by the transaction amount. These transactions are posted each weekday afternoon and the average transaction clears on the second or third day. If you say debit, you will be required to enter your four digit PIN and your wait will be slightly longer. The money will come from your account instantly. If you have any questions about your VISA® Debit Card, please feel free to e-mail us.
Tips for responsible debit card use
Know your current account balance. Don't forget about checks that have not yet cleared your account.
Always take sales receipts and carbon copies.
Record your transactions in your check register as soon as possible. Remember to include any financial institution fees that may apply. Store your receipts safely in one place in case you need them later.
Review your statements carefully. If you suspect a mistake, call your financial institution immediately. And always follow up with a confirmation letter.
If your card is lost or stolen, contact your financial institution immediately. This reduces your liability if fraud losses occur.
Choose a unique PIN. Avoid obvious choices such as your address, phone number, or birth date.
Keep your PIN private. Memorize it. Don't write it down or write it on your card, and never tell it to anyone.