Fraud Alerts
We'll post the latest scam alerts here so that you can protect yourself and your loved ones. If you know of a scam that you want our members to be aware of, send an e-mail to jmackay@gcefcu.org
If you notice unauthorized Visa charges on your account, you may have become the victim of Visa debit card fraud. Click here to download documents to help you get started with the resolution process.
Gulf Coast Educators FCU will NEVER email or call you asking you for sensitive information such as PINs, Social Security Numbers, etc. You should NEVER respond to any emails or phone calls requesting this type of information. Delete these emails or hang up immediately. Anytime you receive an email or phone call of this kind, please feel free to report it to the credit union call center at 281-487-9333.
LATEST SCAM ALERT
Public Safety Advisory – "Bank Jugging" – from Pasadena Police Department

In the past several months the crime of "bank jugging" has been on the rise in Harris County, including the city of Pasadena. The Pasadena Police Department Auto Crimes Unit offers the following information on what "bank jugging" is, what citizens should be on the lookout for, and things they can do to protect themselves from becoming a victim.
WHAT IS BANK JUGGING?
The term is used to describe suspects who sit in bank parking lots and watch customers go in and out of a bank. The suspects follow the customers they believe are in possession of cash and look for an opportunity to burglarize their vehicles or rob them directly.
"Juggers" most frequently target customers carrying bank bags, bank envelopes and coin boxes.
Most "jugging" Burglary of Motor Vehicles occur at a retail or commercial business the customer stops at after leaving the bank.
If a customer leaves the bank and does not leave their money unattended in the vehicle most "Juggers" will go back to the bank to target another banking customer; however, some "Juggers" will confront the customer in an attempt to rob them by taking the money by force.
 THINGS TO BE AWARE OF WHEN BANKING:
Occupied vehicles backed into parking spaces with clear view of the front doors of the bank, ATM or commercial drive thru line
Vehicles arriving at bank with no occupants entering the bank
Vehicles changing parking spaces
Vehicles with dark tinted windows with little or no visibility of the occupants
Vehicles with multiple occupants
 HOW CAN YOU PROTECT YOURSELF?
Always be aware of your surroundings
Conceal money before leaving the bank. Never openly carry bank bags, envelopes or coin boxes.
Be aware of anyone following you from the area of a bank
If you suspect you are being targeted, call 911 from your cell phone and keep the dispatcher informed of your location, the direction you are traveling, and drive toward the police station until marked police cars are able to locate you.
Do not leave or try to hide your bank bag or bank envelope in your vehicle when you exit at your next destination, even if it's your residence.
###
Scammers using Counterfeit Official Checks
It has come to our attention that fraudsters are using counterfeit Gulf Coast Educators FCU Official Checks in conjunction with a number of scams including secret shopper, work at home, property rental and business offers scams. All of the scams have a common request for the check recipient to cash the check and send a portion of the funds to the check sender via western union or moneygram. A copy of one of the counterfeit check appears below, but several variations are being used. Our official checks are not printed on this stock from VersaCheck. If you have any questions about one of our official checks, please do not hesitate to contact us.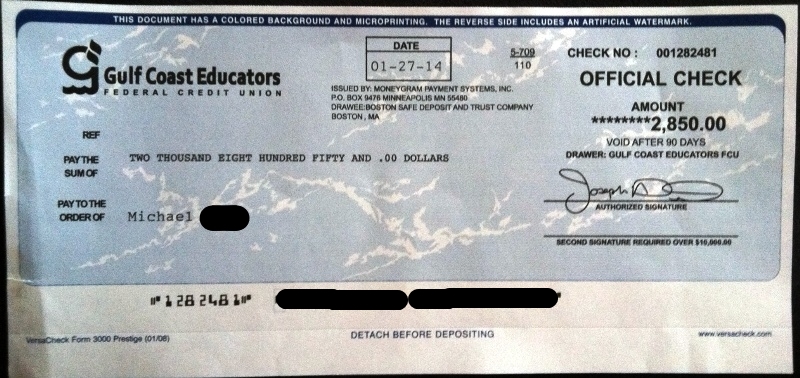 ###
Target Breach
1/11/14 Credit union members are reporting an increase in the number of phishing e-mails and phone calls they are receiving in the wake of the Target breach. Here is an example of a recent e-mail received by one of our members. Notice what happened when we posted the message in Word.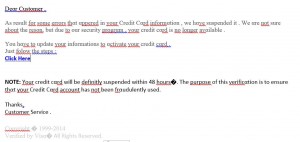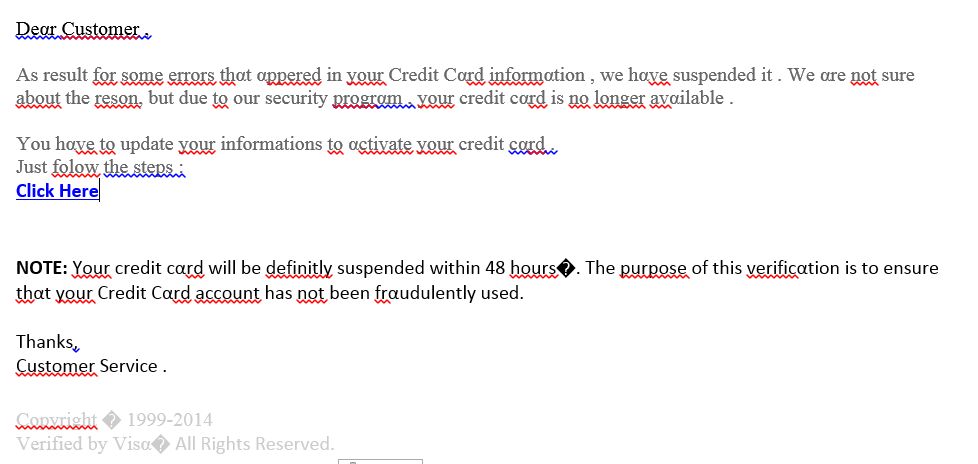 Click image to view message.
Tips to fight phishing e-mails
Do not respond to unsolicited (spam) email
Do not click on links contained within an unsolicited email
Be cautious of email claiming to contain pictures in attached files, as the files may contain viruses. Only open attachments from known senders
Avoid filling out forms in email messages that ask for personal information
Always compare the link in the email to the link that you are actually directed to
Log on to the official website, instead of "linking" to it from an unsolicited email
Contact the actual business that supposedly sent the email to verify if the email is genuine
As far as the phone calls are concerned, members report that the call states their card has been blocked and to push 1 to provide further information. We do have an outsourced Visa Fraud system that does make calls to help our members prevent fraud on their accounts. The legitimate calls will never ask for sensitive information. The numbers from which the calls will come is 877-253-8964. You can call the number listed with confidence that it is legitimate. Unless the calls come from this number or the credit union directly, members should consider the call fraudulent.
###
10/12/13 We have received numerous phone calls from members who have been received fraudulent phone calls regarding an issue with their debit card. The caller will ask the member for information including their credit union account number, the three digit security code on the back of the card and additional sensitive information. The caller ID shows only a four digit number. We will never call you and ask you for sensitive information such as:
Full card number
Account number
Social security number
PINs
Card security numbers
We have confirmed that other area credit unions are experiencing the same type of fraudulent activity. We will be closed on Monday in observance of Columbus Day but will be available today between 9 AM and Noon and again on Tuesday beginning at 8 AM. If you have received such a call and did provide information, please call 800-472-3272 to have your card cancelled immediately.
We do have an outsourced Visa Fraud system that does make calls to help our members prevent fraud on their accounts. The legitimate calls will never ask for sensitive information. The numbers from which the calls will come is 877-253-8964. You can call the number listed with confidence that it is legitimate. Unless the calls come from this number or the credit union directly, members should consider the call fraudulent.
Follow us on twitter to receive fraud warnings and tips during National Cyber Security Awareness Month.
###
The IC3 receives a high volume of complaints from victims of payday loan telephone collection scams. In these scams, a caller claims that the victim is delinquent in a payday loan and must repay the loan to avoid legal consequences. The callers purport to be representatives of the FBI, Federal Legislative Department, various law firms, or other legitimate-sounding agencies. They claim to be collecting debts for companies such as United Cash Advance, U.S. Cash Advance, U.S. Cash Net, and other Internet check cashing services.
One of the most insidious aspects of this scam is that the callers have accurate information about the victims, including Social Security numbers, dates of birth, addresses, employer information, bank account numbers, and names and telephone numbers of relatives and friends. The method by which the fraudsters obtained the personal information is unclear, but victims often relay that they had completed online applications for other loans or credit cards before the calls began.
The fraudsters relentlessly call the victim's home, cell phone, and place of employment. They refuse to provide to the victims any details of the alleged payday loans and become abusive when questioned. The callers threaten victims with legal actions, arrests, and in some cases physical violence if they refuse to pay. In many cases, the callers even resort to harassment of the victim's relatives, friends, and employers.
Some fraudsters instruct victims to fax a statement agreeing to pay a certain dollar amount, on a specific date, via prepaid visa card. The statement further declares that the victim would never dispute the debt.
These telephone calls are an attempt to obtain payment by instilling fear in the victims. Do not follow the instructions of the caller.
If you receive telephone calls such as these, you should:
Contact your banking institutions;
Contact the three major credit bureaus and request an alert be put on your file;
Contact your local law enforcement agencies if you feel you are in immediate danger;
File a complaint at www.IC3.gov.
[faqs topic="fraud"]