Long Distance Relationship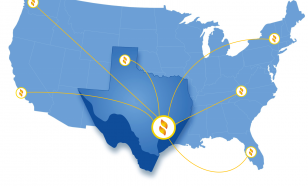 Enjoy A Close Relationship With Us No Matter How Far Apart We Are
Whether you're located in another zip code, another part of Texas or another state, GCEFCU is right by your side. Dependable.  Trustworthy.  Really easy to get along with. You know, your perfect banking relationship.
We Can Be Close Without Being Close
Practically anything we'd do together at one of our branches can easily be handled with your laptop, smart phone or mobile device. Besides offering you the convenience of checking out your account balances and activities, our other never far from your money or credit union services include:
Remote Deposits
Now members can make deposits of checks using the credit union's new mobile app. Click here for complete details and download the app:
Nationwide Access to over 55,000 Surcharge Free ATMs
With over 55,000 Allpoint ATMs available to our members, there's no reason to have to pay a surcharge to access your money. To find one near you, click here.
Account to Account & Person to Person transfers
Account to Account transfers (A2A) allow you to transfer funds into and out of your accounts at Gulf Coast Educators FCU as well as to and from your accounts at other financial institutions. P2P, or Person to Person, transfer service is an innovative way of sending or receiving money via e-mail or text message. Click here to learn more.
Electronic Signatures
Can't make it into one of our offices to close on your loan? No problem. Loan documents can now be signed remotely thanks to our electronic signature service. To learn more, click here.
Online Account Opening
Potential members can open a membership and their new accounts online. So if you know a school employee or an immediate family member that you think would benefit from more money, time & peace of mind, you can direct them to join online.
Shared Branching
Shared branches allow our members to conduct certain types of transactions at participating credit union locations throughout the US. With over 5,000 locations, you're never far from your credit union accounts. Click here for more details.