EDUCATOR MORTGAGE
Home Loans for Teachers & School Employees
If you are a teacher or school employee looking to buy a home, you are in luck. With a Gulf Coast Educators FCU Educator Mortgage, you can finance your new home up to 103%, with no down payment or PMI required. To see if this conventional mortgage loan is the right fit for you, check out the qualifications below.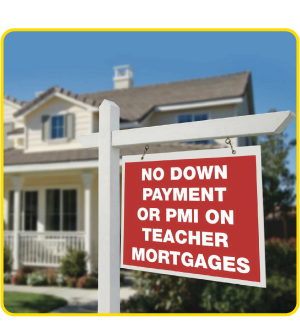 ✔

Occupation: At least one applicant must be a current teacher or school employee for at least 2 consecutive years in a Texas school district.

✔

Credit Score: All applicants must have a credit score of 680 or higher.

✔

DTI Limit: 45% debt-to-income (DTI) limit.

✔

Down Payment & Closing Costs: No extra cash for a down payment is required. You can finance your home up to 103%, using the extra 3% to cover your closing costs.
| ✚ No Down Payment | ✚ No PMI Required | ✚ 103% Financing |
| --- | --- | --- |
| | | |
START YOUR APPLICATION
Our Teacher Mortgage Loan Experts are here to help you every step of the way. If you have any questions, please do not hesitate to reach out to them. When you are ready to apply for your home loan, click the Apply button below.
---
LEARN MORE ABOUT OUR EDUCATOR MORTGAGE
Request More Information
Have questions about our mortgages or the home buying process? We can help! Whether you are a first time home buyer or looking to refinance your current mortgage, our home loan experts can help answer any questions you have.
Schedule an Appointment
If you would like to schedule an appointment with one of our Real Estate Loan Officers, please give us a call at 281-487-9333 or email realestate@gcefcu.org by clicking the Contact Us button.
---