New Visa Debit Cards Issued in August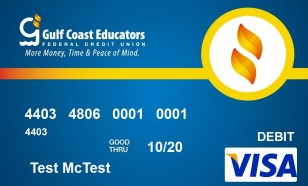 Members to Receive New Visa Debit Cards with New Card Number in Mid August
As breaches such as the recent Target and PF Chang's breach become more frequent, the risk to our member's Visa Debit Cards continues to grow. The credit union receives multiple reports a week from Visa about suspected breaches compromising member cards. The business partner we use to process our Visa Debit Card transactions has recommended that we reissue new card numbers to our entire membership. Therefore, in August 2014, we will be sending all members with a Visa Debit Card a new card with a new number and expiration date.
What this means to our members with a Visa Debit Card?
You will receive a new Visa Debit Card in the mail in August. The cards are scheduled to begin mailing on August 11th.
The card will have a new number and new expiration date and you will need to activate it once you receive it in the mail. You may be required to enter the primary member's social security number to activate the card.
You will need to contact any merchants who automatically charge your debit card. We recommend you access your account history online or use the E-Statements feature to review a few month's worth of transactions to look for recurring debit card charges to pay bills such as utilities, E-Z Tag, online services, subscriptions etc.
Your new card will have the same PIN as your existing card.
Your old card will automatically be closed on September 30, 2014. We ask that you destroy it once you receive the new card as an extra precaution.
FAQs
Why is this happening?
GCEFCU is reissuing new cards to our entire membership to proactively reduce the risk of fraud in response to the recent data breaches that have occurred at merchants; like Target, Neiman Marcus, PF Chang's etc. We certainly apologize for any interruptions or inconvenience this may cause you but it is being done to protect both you and your account at GCEFCU.
When is this all happening?
Cards will begin arriving in the mail during the middle of August. If you have not received your card by Sept 1 please give us a call.
What will I need to do when the card arrives?
Your card will arrive with instructions on how to activate the card, please call the phone number supplied and proceed as instructed.
If I forget to activate my card what will happen?
Your current card will work until September 30th, after that date your card will no longer be active. In order to avoid an interruption with your ability to use your VISA debit card please be on the lookout for your new card in the mail. They will begin arriving around August 18th.
What if my address on file with the credit union is no longer accurate?
We will need you to update your address on file to an accurate one immediately. You can do this by submitting a change of address form through online banking or by visiting one of our locations and completing a change of address form. We would also like to make sure that the phone number and email we have on file is accurate as well.
What should I do with my old card?
After you receive your new card you can call us to deactivate the old one. We advise that once your card has been deactivated destroy the card by shredding it.
Why does my new card have a new card number and a new expiration date?
In an effort to combat fraud we have issued all new cards to our membership. We apologize for any interruptions that this may cause but it is being done to protect you and your account.
How will this affect the bills I have attached to my old card?
Unfortunately you will need to contact all of the payees that were linked to that card and setup your bills with the new card number. The credit union also offers a free billpay system that makes managing your bills very easy. It's safe, secure and convenient.
I have heard about EMV before, is this card an EMV card?
No, this card is not an EMV card. However we anticipate that in the future we will be issuing EMV cards. We do not have a definite date for that.
Will I still be able to come into the branch and get a new card printed on the spot?
Yes. We will continue to instant issue cards to our membership. We do ask that you wait to receive your renewal in the mail rather than coming in to have a card printed.
Can I pick up my renewal card early?
No. Unfortunately we cannot issue renewal cards early. Your renewal card will arrive between August 11th and August 18th if you do not receive it by September 1st give us a call.
When can I start using the new one?
After activating your card you can begin using it immediately to make purchases.
I have a customized card; will I also be getting a new card in the mail?
Yes, all members will be receiving a new card with a new card number including those members with customized cards.
Will I be able to get another customized card?
Yes, we will allow members to order customized cards with their new card number.
Will I have to pay for another customized card?
No. If you had an active customized card prior to receiving your renewal, the credit union will waive the fee for your new custom card.
What if I don't receive my card in the mail?
If you have not received your card by September 1st please give us a call or visit one of our branches for further assistance.